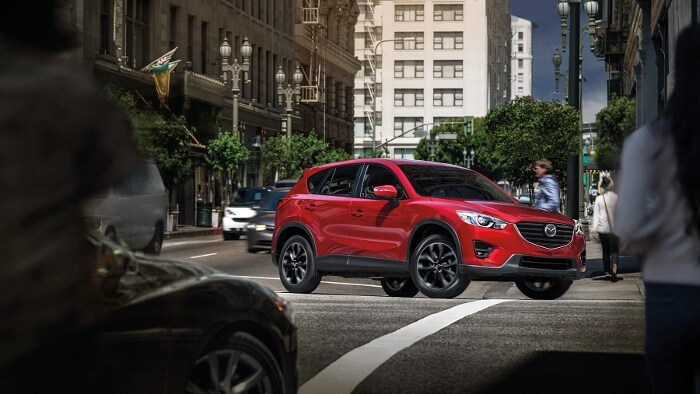 Many of our decisions in life today are made with an eye toward what we can get. Take cars, for example. We want to get a car that's fun to drive, and one of the ways to do that is to opt for all-wheel drive for enhanced handling and traction. And that's what the 2017 Mazda CX-5 offers when equipped with its available predictive all-wheel drive system.
Most vehicles feature a front-wheel drive configuration which works fantastically well. The 2017 Mazda CX-5 comes in this configuration in its standard trim. Front-wheel drive vehicles deliver terrific handling, performance, and efficiency. And without a driveshaft taking up space through the middle of the vehicle's floor there's often more leg and foot space for rear seat passengers.
The 2017 Mazda CX-5 available from our Mazda dealership near Westminster, MD also features an available all-wheel drive system that monitors conditions on the road and in the environment around you, and your driving style and behavior, to predict when and where engine power and torque will be needed at all four wheels. Called i-ACTIV AWD®, it provides confident handling and even greater traction on less than ideal road surfaces because it provides contact with the road at both the front and rear of the vehicle.
Front wheel drive models are excellent vehicles. All-wheel drive vehicles are excellent vehicles as well, with two extra points where power from the engine makes contact with the road. If you want to get a great idea of what you can get when you drive an all-wheel drive then be sure to come check out a Mazda SUV for sale like the 2017 Mazda CX-5 available with the automaker's advanced predictive all-wheel drive system. The 2017 Mazda CX-5 is available for you to test drive here at Heritage Mazda Owings Mills so stop in to check it out today!